Handbrake is a free and open source video converter that can convert videos from nearly any format to a selection of modern, widely supported codecs. It is also cross-platform compatible, which means you can use it on Windows, macOS or Linux.
The good thing about Handbrake is that it is easy to use. All you need to do is to load up your video file, select the format you want to convert to, and click "Start" button to start the conversion.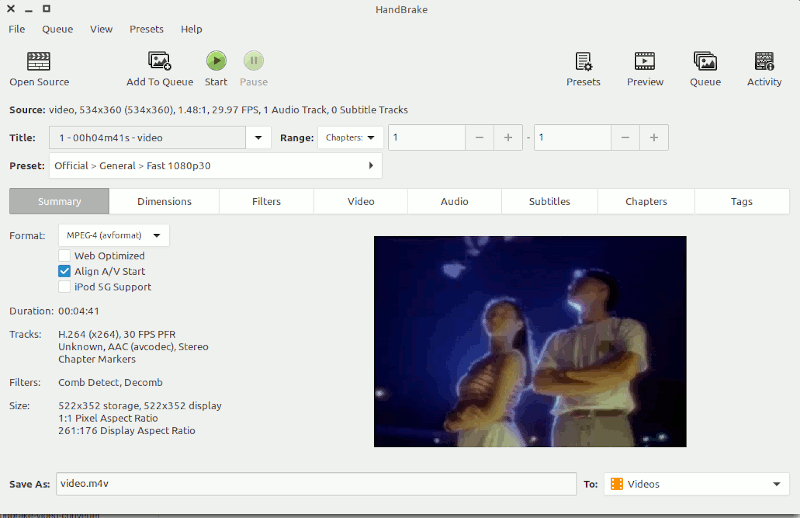 Handbrake comes with a big preset list of video formats and devices that you can choose from. Be it video of different resolution, or preparing video for the web, there is bound to have a preset for you.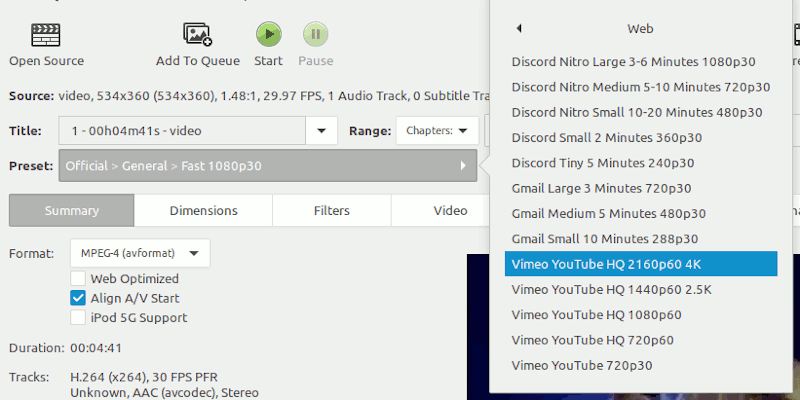 If you prefer to manually change the conversion settings, Handbrake allows you to do so too. You can adjust the video dimensions, add filters, change the video codec, add additional audio and subtitles file etc. All the options are just a click away and you can easily find the settings you want.

You can also queue up multiple conversion jobs and have it shutdown your computer after all the queue is cleared.
Features
Built-in huge list of preset options
Support for most common multimedia files
Can copy unprotected DVD and BluRay disks
Video encoding for H.264(x264), MPEG-4, MPEG-2 (libav) and Theora(libtheora)
Audio encoding for MP3, Flac, AC3, Vorbis, AC, CoreAudio AAC/HE-AAC (OS X Only)
Audio pass-thru: MP3 tracks, AC-3, DTS, DTS-HD, AAC
subtitle support (SRT, SSA, VobSub, Closed Captions CEA-608)
Chapter markers and title chapter selection
Live video preview
Supports
Windows (exe installer, portable)
macOS (dmg)
Linux (deb, Ubuntu PPA, flatpak, AUR)